5 key components for data center optimization
The IT space is constantly evolving with new technologies continuously being introduced to the market. These innovations matched with the demand for greater power efficiency, cooling and increased space has left data centers under increased pressure to meet demands.
Through optimization, systems and equipment can function more effectively and perform at maximum capacity, benefitting both the data center itself and their customers. While data center optimization is an attractive idea, implementing an initial strategy can raise multiple questions – How can we increase the efficiency of existing systems? What equipment needs to be updated? What components should we keep? What is the first step towards optimization? Here are 5 key optimization components to help approach these common queries experienced by data center managers...
▪︎ Data center operations: in-house or outsourced?
One of the first questions to be raised is whether to maintain data center operations in house or outsource them elsewhere. While there are advantages and disadvantages to both, the tendency to outsource services has become increasingly popular, largely due to its cost efficiency.
▪︎ Efficient power monitoring
In order to foresee future requirements and plan for improvements, efficient power monitoring is essential. By measuring power usage, data center managers are kept up to date with the functioning and performance of each power rack and can determine if any changes are necessary. Power monitoring not only enables managers to forecast future growth but also improve their current energy usage and increase cost efficiency. Optimization can be achieved through the implementation of Data Center Infrastructure Management (DCIM) tools.
▪︎ Physical space
Maximizing space usage in the data center is a key step towards optimization, however, it is often viewed as a tricky task for managers to approach. Data center managers fear that under sizing the space will leave them with no option but to expand to a new facility in the future, or by oversizing the space, underused equipment will be unnecessarily maintained, leading to larger operating costs. An ideal solution for this is data center consolidation in which space is optimized, leading to reduced wastage, improved manageability and cutting unnecessary costs.
Overhead busbar systems are another valuable solution to ensure data center space is optimized. Open channel busbar increases the server rack space by removing the need for remote power panels and power whips. The reduced equipment space required by the open channel busbar, also frees up the white space for IT equipment.
▪︎ Maximize server efficiency through virtualization
Virtualization is progressively gaining value and its benefits are larger than solely improving server and storage system efficiency. Server virtualization offers reliability, increasing server availability and centralizing server administration. New project and user provisioning can be carried out quicker due to the security of backup virtual machines which eliminate outages and enable business to continue as usual.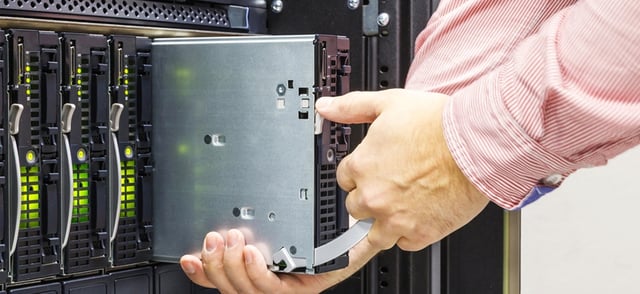 ▪︎ Modularity
Customer demands fluctuate and the ability to expand and scale when necessary are key factors for data center success. A modular design approach enables a data center to spread their investment costs over time and grow alongside the business climate and customer requirements. Modular power skids for example, enable easy integration with existing data center components while also ensuring power supply isn't affected throughout the maintenance process.
While there are multiple approaches to data center optimization, the above components are a great starting point for any facility. With huge competition in the data center space, being proactive to maximize system performance, optimize space and plan and enable future expansion through modular components can be the key to business success.