Over the past number of years, the demand for busbar has grown steadily to become the preferred method of power distribution over traditional cabling. This has fuelled investment in the development of more robust busbar ranges that are suitable for a wider range of applications such as E+I engineering's Cast Resin Powerbar.
E+I Engineering's Cast Resin Powerbar (CRB) is a 1000 Volt, IP68 rated maintenance free busbar system designed for use in outdoor, hazardous or life safety applications. Cast Resin Powerbar ranges from 800A to 6300A and can be supplied in multiple configurations.
The conductor is available in aluminium or copper and is totally encapsulated in a fire retardant, self-extinguishing and homogenous polymer concrete. This provides enhanced protection against extreme conditions in comparison to traditional busbar products. CRPB has been proven to guarantee high resistance to fire, water, moisture, mechanical loads, chemicals and extreme temperatures (-40°C to 60°C)
Cast Resin Powerbar systems are shipped to site as separate sections which are then joined together on-site. The main difference between installation of CRPB and traditional busbar trunking systems is that rather than using standard joint packs, a cast resin mixture is used to enclose the conductors for maximum protection against outdoor and hazardous environments. A mould is secured around the connecting conductors of each section and the cast resin mixture is poured in and left to set for 8 hours, once the fixture has hardened the conductors are fully protected and the mould can be removed.
Advantages of Cast Resin Powerbar
Outdoor Protection
CRPB has an IP68 rating which means the range can withstand dust, dirt and sand, and is resistant to submersion up to a maximum depth of 1.5m underwater for up to thirty minutes – Making CRPB suitable for general outdoor weather conditions. The polymer concrete casing also provides mechanical strength and electrical insulation.
Fire Protection
The fire-retardant self-extinguishing resin casing eliminates any immediate risk of power loss due to fire. CRPB casing has a certified fire rating of F180 which means that the range can supply continuous current under fire conditions for 3 hours before the integrity of the power supply is impacted. This is a key concern in life safety applications such as hospitals where any disruption to the power supply can have serious implications. For instance, in the event of a fire Cast Resin Powerbar will ensure elevators and sprinkler systems continue to run while a building is evacuated.
Aggressive Atmospheric Protection
CRPB has a resistance to most common industrial chemicals and has an ATEX (explosive atmosphere) rating EX m II C T5 GB. This makes CRPB a suitable power distribution method in industries with exposure to corrosive chemicals where there is a possibility of unexpected explosion, such as oil and gas plants.
Complete Power Solution
E+I Engineering's entire product range can be fully integrated to create a complete power solution. Cast Resin Powerbar can be connected directly to E+I Engineering's High Powerbar (HPB) through a specialised jointing system to guarantee the distribution of an uninterrupted high-power supply from an outdoor location or extreme environment to an indoor facility where less environmental protection is required.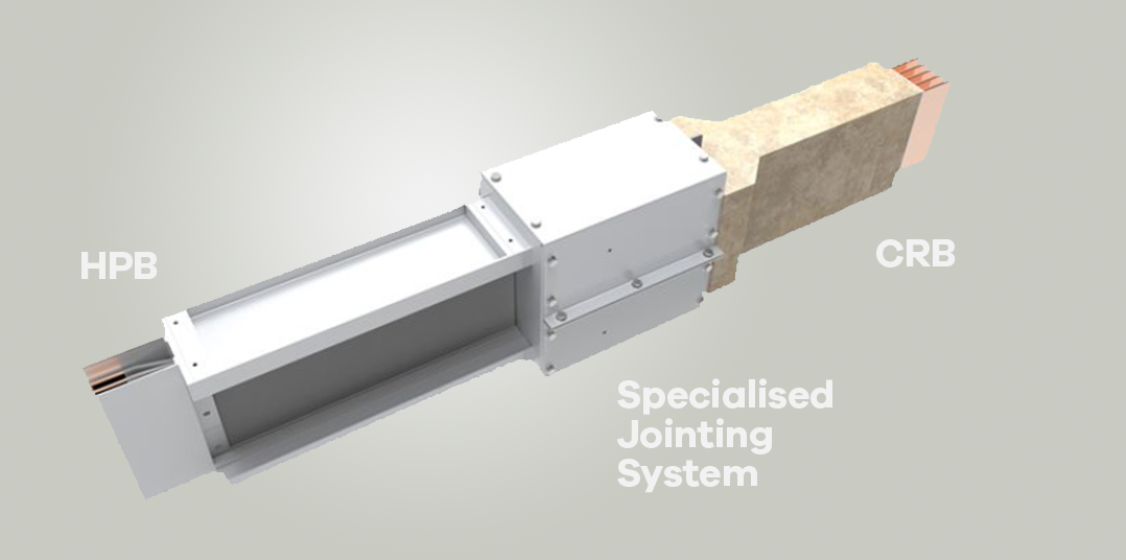 Efficient and Reliable
The low impedance design of CRPB with a minimum distance between each conductor, reduces resistance to the current passing through which results in a low voltage drop. This increases power efficiency as there will be minimal difference between the level of power being supplied to the busbar and the level of power the busbar distributes. The high short-circuit withstand capacity also reduces the risk of power outage due to excessive current flow.
Maintenance Free Design
CRPB is a virtually maintenance free power distribution solution, making it a favourable option for underwater or underground installation where accessing the busbar for maintenance would be a large operation. The maintenance free aspect of CRPB also reduces lifetime costs associated with the project.
Versatile
Depending on the requirements of the project CRPB can be supplied from 800A to 6300A in multiple configurations including neutral, double neutral and earth. Bespoke shapes can be created to conform to the layout of any specific building i.e. to conform to an uneven wall, placement of pipes etc.
CRB Can be installed vertically or horizontally depending on the application. Vertical installation is the main method used to install distribution busbar in high-rise buildings, where tap off units can be connected easily so the busbar distributes power to each floor.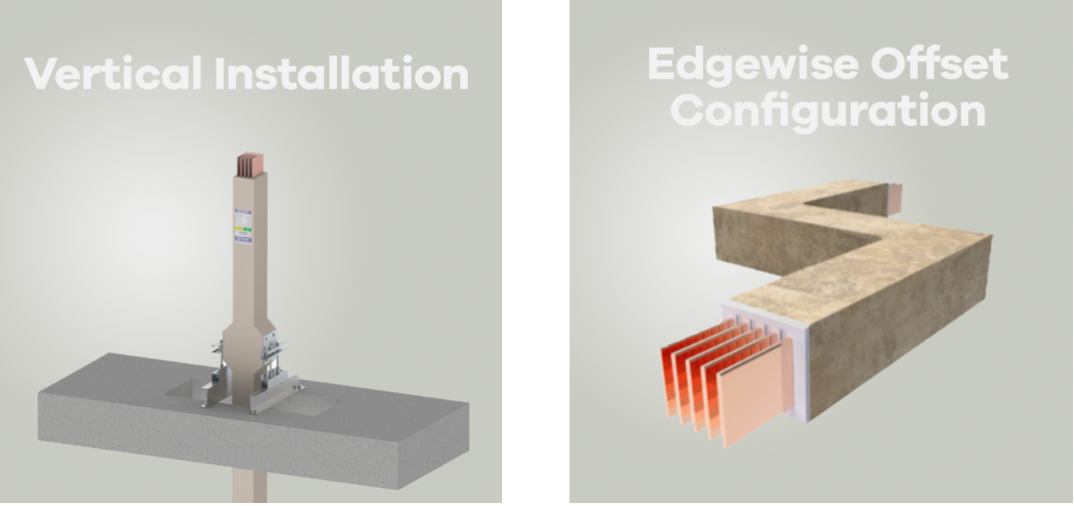 Cast Resin Powerbar provides clear advantages in terms of efficiency and protection in outdoor, life safety and hazardous environments, reducing any immediate risk of power loss. This acts as a contingency plan, giving the end user peace of mind that they would have enough time to react in the event of an environmental crisis such as fire, explosion or chemical exposure, before the power supply would be terminated.